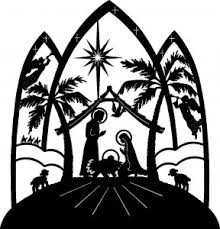 Dear Parishioners of St. Joseph's Parish & St. Anthony's Parish, Sisters & Brothers in Christ,
"The people who walked in darkness have seen a great light; those who live in a land of deep darkness – on them light has shone." (Is. 9:2)
The long darkness of night that we have during winter months is an obvious darkness that people experience. In the lives of other people and in some other parts of the world, there is an experience of different kinds of darkness surrounding lives: calamities, wars, chaos, sickness, lost of a job, or even conflicts in marriage and family. People's unbelief in God and turning away from Him can also be considered darkness that is present in today's world. In this darkness the message of Christmas may be found valuable and could be better appreciated.
Christmas is the Solemnity of the Nativity of Christ – the Word made flesh, who dwelt among us. In the history of our salvation, Prophet Isaiah foretold this birth as a great light who dispels the darkness in this world. The Evangelist John described it as: "The true light, which enlightens everyone, was coming into the world." (Jn. 1:9) Christ, later on in the same Gospel introduced himself: "I am the light of the world. Whoever follows me will never walk in the darkness but will have the light of life." (Jn. 8)
Christmas invites us to turn to Christ as the Light of the world; as the brilliant Light that shines in the darkness surrounding creation, giving hope; as the Divine Light who came to this world bringing life.
Every tiny light on a Christmas tree, in the streets, or at home should lead us back to Christ, the Light of the world. In the same way that every little act of kindness, goodness and generosity should be a real manifestation of the light that we received from Him.
Like the Blessed Virgin Mary, Mother of God and St. Joseph, may we become instruments of God in bringing the Light of Christ into this world!
A Blessed Christmas and Peaceful New Year to all!
With my Christmas Blessings,
Fr. Rectorino M. Tolentino, Jr.
Pastor