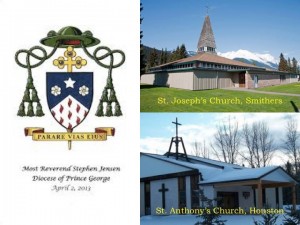 Last Thursday, May 1, 2014, Memorial of St. Joseph, the Worker, Most Rev. Stephen Jensen, Bishop, Prince George Diocese announced the following pastoral appointments, effective August 1, 2014.
Pastors:
Rev. Rene Antonio – St. Joseph's Church, Vanderhoof
Rev. Babji Merugu, SAC* – Christ the King Church, Kitimat
Rev. Pier Pandolfo – St. Joseph's Church, Smithers & St. Anthony's Church, Houston
Rev. Melwin Pinto, OCD* – Sacred Heart Cathedral, Prince George
Assistant Pastor
Rev. Victor Fernandes, OCD* – Sacred Heart Cathedral, Prince George
Special Assignment
Rev. Rectorino Tolentino – Sabbatical year
*Upon presentation by his Religious Superior.
St. Peter's Church in Mackenzie will continue to be served from the Cathedral Parish.
Rev. Pier Pandolfo, is one of the incardinated priests in the Diocese of Prince George. He is a Canadian whose parents are originally from Italy. He is coming to Smithers and Houston with 21 years of experience in ministry. In the past, he had served at St. Peter's Parish in Mackenzie, Immaculate Conception Parish in Prince George and Christ the King Parish in Kitimat. At present, he is the Rector of Sacred Heart Cathedral in Prince George.
Please PRAY for us priests who have received new assignments: that we may be continuously inspired and strengthened by the Holy Spirit as we prepare to move to our new places of ministry; that we may also fulfill the tasks entrusted to our care with much diligence and enthusiasm; that the people whom we will meet along the way will be welcoming to us.
My deep and personal gratitude to all of you – St. Joseph's Parish & School Community, Smithers, B.C. and St. Anthony's Parish Community, Houston, B.C. for allowing me to journey with you for more than six years. I will continue to be with you until June 30, 2014. This is to allow me to have a little break before I take off to do my Sabbatical Program agreed upon by the Bishop.
For the month of July, you will be served by Rev. Daquin Iyo, OMI. Father Iyo is originally from The Democratic Republic of Congo working in the Kenya Mission and studying at St. Paul University in Ottawa.
St. Joseph and St. Anthony, pray for us.
Fr. Rector